Works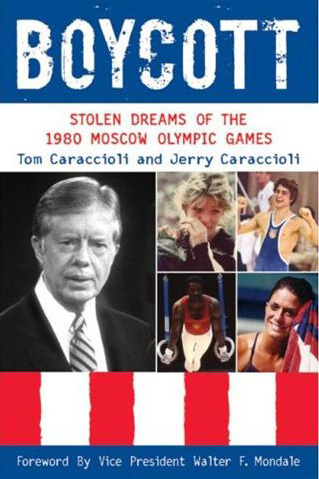 "Uniquely and poignantly captures the impact of American athletes denied the opportunity to compete in the Olympic Games. This book... becomes their belated, but deserved, Olympic salute."
—Dick Enberg, CBS Sports
"The strength of "Boycott" is in the Caraccioli brothers' methodical presentation of the complicated events leading up to boycott."
—Peter Hausler, Wall Street Journal
BOYCOTT: Stolen Dreams of the 1980 Moscow Olympic Games
, is a collaboration of brothers Tom and Jerry Caraccioli, revisiting Carter's decision to punish the Soviets for their aggression in Afghanistan."
—Harvey Araton, New York Times
"It is reassuring that the Caracciolis decided to tackle this story about America and American athletes in a challenging time."
—Anita DeFrantz, International Olympic Committee
"In a brief foreword, former Vice President Walter Mondale apologizes to all athletes denied the opportunity to compete in the 1980 Olympics; it's the first of
Boycott's
many poignant moments."
—Athletic Business
By PETE HAUSLER
June 5, 2008 12:10 p.m.

Soviet troops crossed the Amu Darya River into Afghanistan, launching a major invasion in the final days of 1979. In the thick of the Cold War, this Soviet-described "assistance for the ailing Afghan regime" was deemed intolerable by the administration of President Jimmy Carter. The president felt he had to send a strong political message during his subsequent State of the Union address. To the chagrin of the hundreds of American athletes in training for the Summer Olympic Games to be held in Moscow that summer, Mr. Carter proposed a U.S.-led boycott of the Games.

Tom and Jerry Caraccioli's book "Boycott: Stolen Dreams of the 1980 Moscow Olympic Games" profiles 18 Olympians who would have competed in those Games. Of these elite athletes, two stand out -- one for his eloquence and introspection and one for his continued anger regarding the boycott. Swimmer Craig Beardsley's contemplative musings about the greater meaning, past and present, of the boycott serve as a narrative touchstone throughout. As a stark counterpoint, wrestler Gene Mills exudes a caustic bitterness that still consumes him.

Each of the nine chapters in "Boycott" has three parts. The first third of each chapter chronologically lays out the historic events that ultimately led to the United States Olympic Committee's vote to uphold President Jimmy Carter's choice to boycott the Moscow Games. The second and third parts portray a wide range of athletic personalities, from a gymnastics phenom too young to fully understand the intricacies of the political situation to a grizzled shooting-team member old enough to have received a draft notice the day John F. Kennedy was shot.

Commenting on the consolation trip to Washington D.C. to meet with President Carter, gymnast Amy Koopman remembers her then-13-year-old self "having a blast. I remember doing a lot of sightseeing and getting to meet the other athletes."

David Kimes would try out for eight consecutive Olympic shooting teams, from 1964 through 1992. The only time he actually made the team was in 1980. Like many of the athletes profiled here, Mr. Kimes made his mark elsewhere. He became a computer programmer in the aerospace industry and worked on the Apollo missions, including the first walk on the moon.

A feeling of sadness pervades "Boycott." As the 18 profiles unfold, we learn that elite training is as much about timing as talent. Many of these athletes never made it back for another Olympics due to some combination of career-hampering injury, depression over the boycott or an inability to sustain the necessary mental focus for another four years. This is one of the gloomy undercurrents of the book -- that the great tragedy of the boycott is how many of these athletes had trained to peak at that exact time, the summer of 1980.

Another psychologically disheartening aspect for the summer Olympians was that the boycott came on the heels of the storybook winter Olympics at Lake Placid, N.Y., where the so-called Miracle on Ice occurred. The U.S. men's hockey team, beyond all expectations, beat the heavily favored Soviet team in the penultimate medal-round game, and went on to earn the gold medal. Add to that the magic of U.S. speed skater Eric Heiden winning five gold medals, and the summer Olympians wanted nothing more than to continue the American winning streak months later in Moscow.

Mr. Beardsley, the swimmer, speaks of how the top-level Olympians had the most to lose by not competing. Because he was still a relative newcomer in elite-amateur swimming circles, he wasn't as upset as others were. Instead, Mr. Beardsley expresses sympathy for those he thinks got short-changed by the process.

Mr. Beardsley may not specifically refer to Mr. Mills, the wrestling dynamo from New Jersey, though Mr. Mills certainly falls in that category. Going into the Moscow Games, he was the top wrestler in the world in his weight division. He was a four-time all-American at Syracuse University and had annihilated the competition in other 1980 events. In a major tournament in Tbilisi, the capital city of then-Soviet Georgia, he became the fifth American to win the tournament in a 22-year span. He pinned competitors there who would go on to win medals in the Moscow Games.

If the U.S. had not boycotted Moscow, Mr. Mills could have had a legitimate shot at becoming a household name, like Mr. Heiden. So perhaps it's understandable that Mr. Mills comes across spitting-mad then and still resentful today, nearly 30 years later. His comment in 1980 -- "I would love to be locked in a room with President Carter and wrestle him and put him into intense pain" — doesn't sound all that different from his recent comments for this book: "It's not like I got beat by a wrestler. … Everything I worked for all those years was taken away by a peanut farmer they called the president."

The strength of "Boycott" is in the Caraccioli brothers' methodical presentation of the complicated events leading up to boycott. To their credit, the authors themselves don't directly weigh in on the inevitable question: Was it worth it? Rather, they allow the five to 10 pages allotted to each of their featured athletes to do the talking. In a fascinating last chapter titled "Message to President Carter," they ask each of their athletes to vent their feelings about a political maneuver they and most others associate with the commander in chief.

While a clear majority of Americans surveyed in a 1980 Gallup poll backed Mr. Carter's boycott (63% agreed with the boycott and 29% disagreed), most of the Olympians themselves, to this day, seem to feel it was wrong. We'll give the last word to the expressive Mr. Beardsley: "[The boycott] was the wrong direction to take. … If anything, you need more sports in the world and people to cross those boundaries and share what we have in common."

Write to Pete Hausler at pete.hausler@wsj.com